Jeff's Biography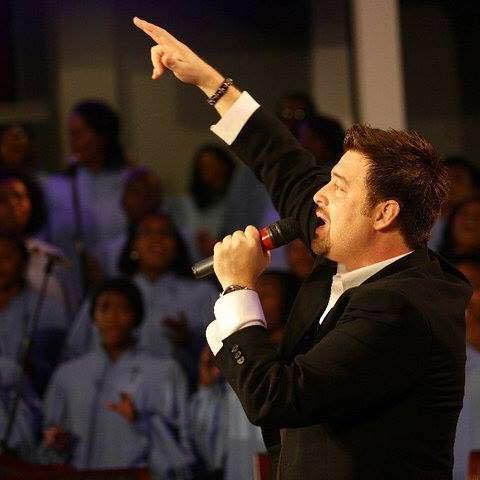 Jeff Ferguson is a worship leader, pastor, guest speaker, author, recording artist and dad to Gabrielle.  Jeff's ministry is based in Orlando, Florida where he lives and has maintained an office in Dallas, Texas for the past twenty years with Angie and D'Ann; two sisters who began working with Jeff Ferguson Ministries in 1998.

As a songwriter, Jeff's songs have been recorded more than 4,000 times by artists including TD Jakes, CeCe Winans, Vickie Winans, The Crabb Family, Dottie Peoples, Clint Brown and many more.

Some of Jeff's most popular songs are, "Woman, Thou Art Loosed", "There is Power in the Name of Jesus", "At Your Feet", "We Love You, Lord", "Imagine a World Without Christmas", "Without the Cross", "Brothers and Friends" and "It Doesn't Matter Who You Are".

Jeff's music has been put into print hundreds of times and recorded or performed by the world's most popular choirs including Christ Church Choir, Brooklyn Tabernacle Choir, Prestonwood Choir and Orchestra, Cornerstone Sanctuary Choir, Lakewood Choir and Orchestra and many others. Jeff has written contemporary Christmas songs included in several popular Christmas musicals.

Jeff's music has been nominated for multiple Grammy, Stellar and Dove Awards. Twice, Jeff has been nominated for Songwriter of the Year. Jeff is the founder of the popular event school, "You Can Write a Song!"

Jeff has been a guest teacher at several universities and Bible schools including Dallas Baptist University, Christ for the Nations, Urbana University and The University of Georgia.

Jeff founded and pastored CitiChurch of Dallas from 2011-2016. Jeff is the founder and former director of Hope for the Homeless. Jeff has a focus on prayer and has started vibrant, early morning weekly prayer services in late 2016 and early 2017 in churches in South Florida, Orlando and Texas that are going strong today.

Jeff has a daily social media ministry and leads Friday Morning Devotion, "live" every Friday Morning at 7:00 a.m.  Jeff has helped churches develop a powerful social media presence through live prayer services and events.

Jeff has been invited as the speaker  at hundreds of revivals over the past two decades. Some have been extended from one weekend to several weeks in powerful moves of God. The longest a revival has been extended is 19 weeks.

Jeff's goal is to put value on God's children and to create an encounter for them that is life changing by leading them into the presence of God through music, preaching, prayer and worship.